Triumphant return for old heads
Grafton 1 PFFC 3
An enthusiastic set of experienced and less experienced Philosophers made the pilgrimage to Weavers' Fields in the East End. Many in the team, unfamiliar with how far east the pitch was, perhaps felt like the Huguenots who came to this part of east London to escape the oppression of Protestants in France by Louis XIV.
This match saw a welcome return to the team for three PFFC Legends: Rob the Cat, Raj and Cornish Al. Some enterprising runs from Cornish Al and some hard graft from Raj and Owen clearly demonstrated that there was much the inexperienced Philosophers could learn from these longer-standing players about how to play tough Sunday morning games. New fathers Cornish Al and Raj and father-to-be Owen were models of consistency across the right and left flanks: Raj supporting Lawrence on the right, and Owen supporting Cornish Al on the left, respectively.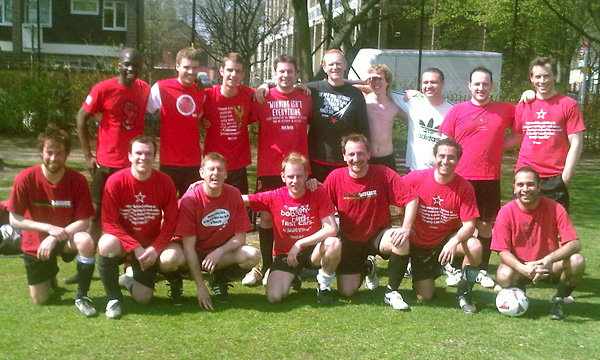 After some constant pressure early on, most of which originated on the flanks, along with strong endeavour from Ally and Will in the middle, a break opened up that ended with Clarkey placing a perfectly placed pass in for the energetic Lawrence, who was bursting down on goal and who finished with aplomb. But Grafton struck back immediately: within a few minutes a free kick was conceded on the edge of Philosophy's penalty area. A form of chaotic anarchy ensued and Grafton were right back in the game.
Philosophy needed to get back to better, more organised ways. Matt skewed a chance from a narrow angle when Ally was waiting unmarked in the centre of the penalty area. But there were good signs: on a pitch as hard as east London's concrete streets, the Philosophy defenders ensured they got to the ball first, an energy that PFFC need to retain in the next half.
One of the key discussion points as the sweaty red team trudged off was why the Philosophers weren't in the lead at half time. There was a need to turn possession into goals. At half time the Gaffer gave the team some minor tweaks: Cornish Al made way for Dave, as Ally moved to left midfield, and Francesco replaced Raj at right back. There was an echo of the past in this former Huguenot cloth-merchant area as the Italian displayed some silky runs while weaving emphatically up and down the right-hand side.
Will was in no mood to let his beloved Blackpool's victory the day before be the only three points he would take home this weekend. Like a young James Milner, ably assisted by both Francesco and Dave, Will managed to create time and space for Lawrence to use his break-neck speed and tear the left back apart: non-violently, of course. Lawrence finished expertly, slotting the ball underneath the Grafton keeper, which brought a sigh of relief from all in red.
The third goal came as a gaping hole appeared in Grafton's defence and, amid calls for offside, a slide rule pass from Matt was received by Lawrence who deftly dribbled around the keeper to slot home.
Grafton were clearly deteriorating in the spring sun against a Philosophy side that persisted with attacking intent and guile. Even Grafton's stand-in keeper was, to quote, 'knackered' mid-way through the second half: a reflection of Philosophy's dominance of the game. It will be interesting in the upcoming three-sided football match at nearby Haggerston Park to see how the Philosophers curtail this competitive element.
Clarkey put in a late shout to Capello's World Cup squad with a fantastic Van Basten-style volley that struck the crossbar and bounced over. Everyone was in awe, including the drunk on the touchline who, after Lawrence put a chance wide, proceeded to shout abuse at him. This connoisseur of Special Brew was put back in his box by Matt, who informed him that Lawro was the hat trick man. Like this jovial spectator, the game then petered out to its conclusion.
Throughout, Rob the Cat in goal, Kofi and Andrea at the back, and Clarkey up front displayed some of the fantastic touches that make them such pivotal individuals in the PFFC side. In fact, much of the post-match discussion focused not so much upon how similar Andrea was to Franco Baresi as how comparable Baresi was to Andrea!
After the game many of the Philosophers made a temporary base under a bridge of the newly modernised East London line on Brick Lane for some good food, drink and post-match analysis. The team forwent curry in favour of fresh sea bass and barbecue ribs (though not together), along with a few tinnies – though, thankfully, not Special Brew.
This Philosophy side perhaps has a lesson for those political leaders hoping to form a government in a few weeks' time: the right combination of experience and youth creates a potent, winning formula.
PFFC (4-2-3-1): Rob; Raj (Francesco 46), Andrea, Kofi, Owen; Will, Ally; Cornish Al (Dave 46), Matt, Lawrence; Clarkey (Vito 75)
Sub not used: Jonni
Post-match formation (Brick Lane): Kofi, Clarkey, Ally; Dave, Matt, Gaffer; Andrea; Owen; Vito