Teamwork brings a spring to victory
PFFC 3 Sporting Tooting 2
On a beautiful spring morning I set out from east London towards Wormwood Scrubs. From White City I strolled across dewy meadows, through crystal streams and over moors of purple heather: forgive me, I'm rambling. All right, enough of the bad jokes and onto the football. The Philosophers lined up in a similar formation to the 3-4-2-1 which had been effective the previous week; however, to give us more potency in attack, we started with 2 up front and played with a single player in the supporting number 10 role to give us a 3-4-1-2 starting formation. Our opponents were Sporting Tooting who, I knew from my own experience playing against them, are a tough if unpredictable opponent. Owen, Ally and Andy, our 'old' wise heads were aware of Tooting's flair for self-destruction and knew if we could keep in touch we stood a great chance of notching our first win of 2012.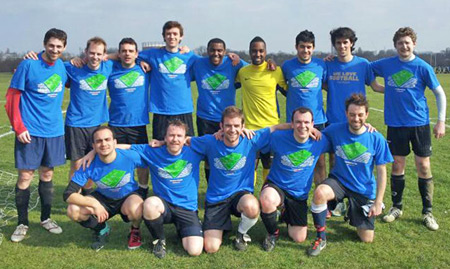 Back row, l-r: Leandro, Ally, Mario, Simon, James, Kadeem, Angel, Pablo, Henry.
Front row, l-r: Ömer, Andy, Matt, Owen, Will.
We started with a back three of myself, Ally and Mario. In midfield were Owen, Leandro, Simon and Ömer, with Angel playing as the number 10 and Matt and Henry up front. We started slowly, unable to pass the ball as well as we had against Arup, with the dry, bobbly surface certainly a factor in this. In spite of this we went ahead midway through the half when Matt played the ball to Henry, who looked at first as though he had taken it too wide but was then able to wrap his left foot around it and smash it past the keeper: 1-0 to the Red men (this week in blue). Despite going one up we were struggling to impose ourselves on the game and Tooting soon drew level after a hopeful cross led to a mix-up between Mario and Kadeem and the ball dropped kindly to the Tooting striker: 1-1. Then, to add to our woes, Tooting were put ahead minutes later by an unstoppable 30-yard pile-driver. No one was to blame here, it was just a great strike from the Sporting midfielder.
With the team 2-1 down at half time Ally made a tactical switch, reverting to a more familiar 4-3-1-2 formation and switching Ömer for Andy at right wing back and bringing James on for Henry up front.
We began to take more control of the game early in the second half. As predicted by the old heads the Sporting Tooting players then began to argue with the ref and among themselves in spite of holding a 2-1 lead. One such instance went as follows: the Sporting Tooting centre forward, having spent most of the first half clattering into myself or Ally, was reprimanded early in the second half for another offence. To the referee's whistle he complained 'Ref, REF! Every time I do that you blow the whistle?!', to which the referee replied 'That's right, and that's why I'm booking you for persistent fouling'. Hoist by his own petard.
Our dominance had not, however, led to an equalizer, and more changes were made when Simon had to go off with a head injury received when bravely challenging for a corner. Angel's brother Pablo made his debut to give us an entirely Latin central midfield of Leandro, Angel and Pablo.
Pablo's strong running and close control eventually led to the equaliser when he drew the Sporting Tooting defence into a foul within the area. And this led to my own moment of glory. Having spent pretty much the entire match in my own half I ventured for the first time into the Sporting half to take the penalty. My better half's father, Dr Ken Bray, once wrote an article for the Guardian on the perfect penalty, and I am sure he would have heartily approved of my effort, as I despatched it high to the keeper's right into the 'unsaveable' zone (see diagram), bring the Thinkers level on 2-2 and my personal tally to 10 out of 10 successful penalties in my playing career.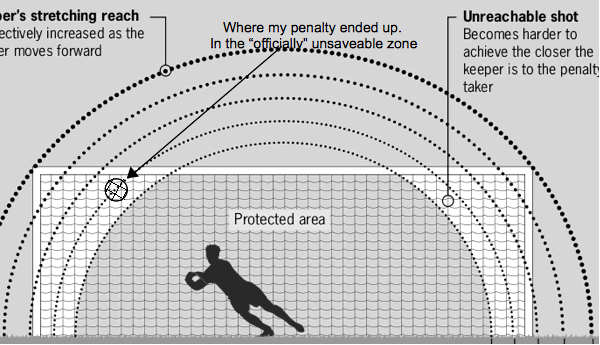 Henry then came back on for Angel to try and push for a winning goal, and he delivered with aplomb. The winner came from a fine move which began with an incisive pass from Ally at the back through to Pablo who, in turn, played a superb through ball into Henry, who smashed the ball brilliantly on the volley past the Sporting Tooting keeper from 20 yards: 3-2
With 15 minutes to go Sporting Tooting started to pile on pressure once again, and it required some fine goalkeeping from Kadeem plus stout defending to see us through to the final whistle with a victory.
Congratulations is due to everyone who played for Philosophy, as it was a fantastic team effort which won the game. From the starting eleven to those men who came on as replacements, everyone played their part. We should now aim to consolidate our third place in the league which, after the trials of last season, is a no mean achievement.