Paris photo diary
4.The Gaffer chatting with Frank Simon, our host in Paris.
5.Nervous laughs: the players waiting for the Gaffer to disappear into the hotel so to avoid the curfew and have a last drink. The Gaffer holding his position, before finally giving up and go for a difficult nap followed by Marco and Filippo. The Channel between Europe and Britain has never looked so wide, and the Gaffer is not happy. But at the bar there will be plenty of lemonades and just a single 'demi' for the more adventurous. Anyway, lots of the boys will sleep quite badly, Gaffer included. The tension of the game was already running high. I personally woke up at 6.45. The central midfield duo, Marco and Kieran, will be the first to appear in the catacombal salle du petit déjeuner, well before 8am, continental time.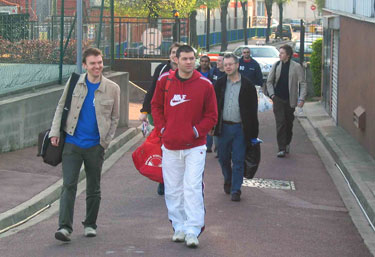 6.Entering the Parc Municipal des Sports in Issy Le Moulineaux. BST this is just after 8 am. In Paris is 9.15. The sun is shining and the taxi ride brought us to the pitch after a wonderful ride along the Seine. Emotional.